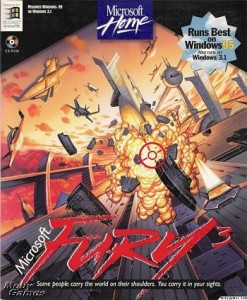 Fury3 was one of my most favourite games growing up, and the intro to the game was what did it for me; the music by Kyle Richards made a huge impact on me. This week I had a go at updating the intro with some more modern sample libraries.
Fury3 from Terminal Velocity was probably one of the most groundbreaking games of it's kind – showing the world what Windows 95 could do for huge outdoor 3D Game environments. It's essentially a big ol' space fighter shoot'em up, as you fly over a few different planets killing those pesky Bions. Addictive gameplay… and it seemed that the intro to Fury3 always sucked me in.
I've tried my hardest to stay as close to Kyle Richards' original arrangement, making it new by pure virture of new sampled instruments. I still think the original is better – just for the fact that it is the original…
Fury3 Re-Orchestration | DOWNLOAD>>
[audio:sb_fury3.mp3|titles=Fury3 Re-orchestration|artists=Scott Buckley (Original Music by Kyle Richards)]
I've posted the original video intro and my re-orchestartion so you guys can hear the differences:
Fury3 Intro – Scott Buckley's Re-orchestration
Fury3 Intro – ORIGINAL (Music by Kyle Richards)
Hope you guys enjoy this. Next one is a Morrowind re-orchestration!